Development roadmap
Jump to navigation
Jump to search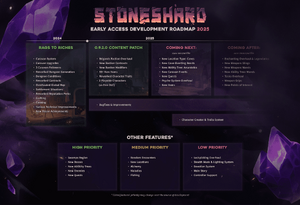 This page contains the roadmap detailing what will be added to the game during the Early Access development as well as a list of all changelogs.
Not what you're looking for? Check out the Latest news for important info and teasers of what is being worked on.

The first roadmap dates from early access launch (February 2020), outlining plans for the short-term and long-term throughout its stint in EA. An updated roadmap (image on the right) was provided via the game's Discord.
Patch Notes
Early Access
Equipment Update III
Early Access
Forgotten Lore
Early Access
City of Gold
Early Access
Equipment Update II
Early Access
Way Forward
Early Access
Bolt Thrower
Early Access
Trollslayer
Early Access
(Initial Release)
"
We've successfully Kickstarted and released '12 Is Better Than 6' in 2015. The game was a success, and it helped us to begin working on Stoneshard. We're certain that with your help we will make Stoneshard as awesome as possible and release it.

We will do our best to stick to the schedule regarding the development of Stoneshard — but still, no one can predict the future. Sometimes some things take a little longer than expected, and a few features may not be as easy or interesting enough to make it into the final version of the game. However, as we've said before — making Stoneshard as awesome as possible is our top priority. Throughout development, we will keep you informed about all updates and issues. Once again, thank you for your support and faith in our team!

"
~ Ink Stains Games on Kickstarter, Risks and challenges section